17th Congress Proceedings
PR - Effect Of Chicken Manure On Maize Plant Height
A pot trial was carried out to evaluate the effect of Chicken manure, Tithonia diversifolia and Albizzia spp on maize plant height and dry matter production at the University of Goroka in the Eastern Highlands Province of Papua New Guinea (PNG). Increasing levels of organic inputs (5, 10 & 20 t/ha) plus a control (0 t/ha) were used as treatments (10) replicated 3 times in completely randomized design. Experimental soil was analyzed for water soluble anions and cations.
Application of organic inputs resulted in positive responses. All chicken manure levels and 20 t/ha level of Tithonia diversifolia resulted in highly significant maize plant heights and dry matter production compared to all other treatments. . Mean maize plant heights ranged from 34 cm (control) to 54 cm (20 t/ha chicken manure). Dry matter production followed a similar trend with figures ranging from 0.19 t/ha (control) to 0.63 t/ha (chicken manure 20 t/ha). The effectiveness of organic input followed the order: Chicken manure > Tithonia diversifolia > Albizzia > Control.
Keywords: Organic, Chicken manure, Tithonia diversifolia, Albizzia spp, soil fertility, plant height, Dry matter production. Water soluble anions and cations.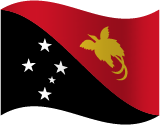 Organization(s): University of Goroka (1)
ISBN Number: